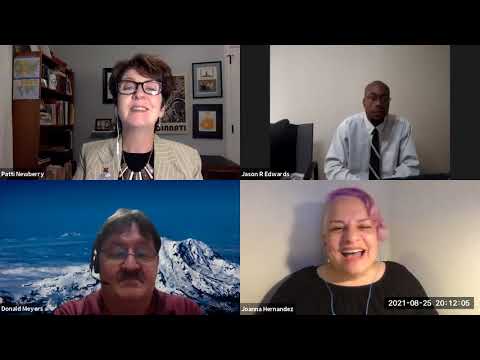 Replay: SPJ Meet the Candidates Forum
Hear from the candidates running for office and listen to their goals and ideas for SPJ.
Download a chat transcript here. [TXT format]
---
---
Jump to:
– Meet the candidates
– Run for office
– Participate as a voting SPJ member
---
Election Central
Meet the Candidates
Skip to a position:
— Vice President
— Secretary-Treasurer
— At-Large Director (two-year term)

Regional Coordinators: 1 - 2 - 3 - 6 - 7 - 10 - 11 - 12

Please note: Regional Coordinators no longer serve on SPJ's Board of Directors. For more information about this change, consult SPJ's bylaws.
---
Vice President
Choose one

Jump to candidate:
– Claire Regan
– Andrew M. Seaman

---
Claire Regan
@clairemariereg1 • Facebook • LinkedIn • Website

Current SPJ office(s) held:
- National board member of the Society of Professional Journalists
- Member of SPJ's national Freedom of Information, Resolutions and the SPJ21 Conference Planning committees
- Chairman and immediate past president of the Deadline Club, the New York City professional chapter
- Board member of the New Jersey professional chapter

Previous SPJ experience:
- Three-term president and 25-year board member of the New York Deadline Club, holding a series of positions including awards dinner chair, scholarship chair and web redesign chair
- Chair of the planning committee for the Region 1 Conference in New York City in 2017
- Member of the planning committee for the Region 1 Conference in Philadelphia in 2018
- Chair of the New York Journalism Hall of Fame luncheon in 2019, when the Deadline Club honored Jane Pauley, Tom Brokaw, Ted Koppel, Peggy Noonan and Richard Drew
- Graduate of SPJ's Ted Scripps Leadership Institute

Special skills to serve in the office sought:
As a passionate journalist and journalism educator with three decades of experience in the newsroom and the college classroom, I have honed my skills and stand ready to focus on the challenges faced by our profession and by the professional association that we all love so much.

SPJ has a powerful voice promoting freedom of the press, freedom of information and ethical journalism. However, like any large organization, it can become bogged down in process. My management experience in the newsroom, on campus and in boardrooms will guide me in streamlining the SPJ experience for all members.

SPJ and its members have been impacted in recent years by the painful rounds of buyouts and layoffs in the media industry. It has grown more challenging to attract and retain members and volunteers for leadership positions. If elected, I would use my experience leading a local chapter to make this process easier at every step—from recruiting and signing up new members on our website, to simplifying chapter reporting requirements, to revamping our leadership training.

Our professional development opportunities at national and regional conferences and in between are second to none. We could always do even more to support both young people entering the profession and mid-career journalists facing downsizing. Based on my experience as a journalism professor and supervisor of my newspaper's college internship program, I would encourage SPJ to increase job listings, establish a mentoring program for young or displaced journalists, and create a speakers bureau tapping into the expertise of our members.

Bio

I've spent much of my career at my hometown newspaper, the Staten Island Advance, a daily in New York City's greenest borough, working my way up from wedding writer to associate managing editor and internship supervisor. Along the way, I held almost every job in the newsroom and loved them all.

I directed coverage of many breaking news events—including the terrorist attacks of 9/11, which unfolded just across the harbor from my newsroom; Hurricane Sandy, and a fatal Staten Island Ferry crash. As a team leader, I produced special sections, anniversary issues and a hardcover book. My work for the Advance has earned awards from the New York Deadline Club, the Associated Press, the Society for News Design and the New York Press Club.

I led a redesign of the newspaper, and later, the transition to a digitally focused newsroom. Today for the Advance, I'm a freelance contributing writer for print and web.

Throughout my career, I've sought challenging opportunities to broaden my skills, especially at the Poynter Institute, where I completed a yearlong fellowship in journalism ethics and several leadership programs. I taught in Poynter's summer program for recent college graduates and worked as a freelance editor for its International Fact-Checking Network. I made lasting friendships and valuable contacts through each experience.

As an assistant professor of journalism at my alma mater, Wagner College, I teach all courses in the program and advise the student newspaper. I enjoy creating special curriculums such as Covering the Election, Women in Journalism and Murder and Mayhem (you guessed it! — it's about crime reporting.)

It was an honor to receive the faculty award for diversity and internationalization for my work with the Mandela Washington Fellowship program for young African leaders; the Adjunct Faculty Exceptional Performance Award, and the Women Who Inspire Award. I am also the proud recipient of the Charles O'Malley Award for Excellence in Teaching from the Scholastic Press Association at Columbia University.

Candidate Q&A

Why are you the best candidate for this position?

I offer deep experience as a working journalist, journalism educator, chapter leader and national board member — all of which will help guide me through the challenges ahead. I can also share the knowledge and contacts I gained through the programs I've completed beyond the newsroom and the classroom.

As a Poynter Ethics Fellow, I developed a deeper understanding of the values that underpin excellent and ethical journalism, which helps me promote one of SPJ's central missions.

As a trainer with the Freedom Forum's Power Shift Project, I support this national initiative to improve the diversity, equity and culture of news organizations.

If I have the honor of being elected, I will work closely with incoming President Rebecca Aguilar on her agenda, while preparing to step up into the role of national president.

The SPJ president enjoys a high-profile platform to advocate for freedom of the press, freedom of information and journalism ethics. I'm comfortable speaking up about these values. In one recent example, I testified at a New York Police Department hearing against new rules restricting press credentials and was interviewed about the issue in the New York Post and on WBAI Radio NYC.

Budget oversight is important, especially in such a challenging period for membership and fundraising. I offer experience managing budgets for local chapters and regional conferences, and in fundraising as a member of several nonprofit boards.

Working with other journalism organizations is a priority for me. I've been a participant and speaker with the International Women's Media Foundation, served as president of the New York State Associated Press Board of Directors and as a founding director of the Journalists Association of New York.

Above all, SPJ leaders who have worked with me at the chapter, regional and national levels know that I enjoy bringing together people of different backgrounds, viewpoints, talents and skills to brainstorm and collaborate on creative solutions. My goal is to make people on the team feel valued and empowered.

What is an example of a change you have made or helped make within SPJ?

During my term as Deadline Club president, I joined the board of the New Jersey professional chapter at the invitation of the late John Ensslin, a much respected and beloved past national president. The teamwork across state lines and between chapters has benefited programming.

Also as Deadline Club president, I led a committee that revamped the club's website. Under my stewardship, our team grew the awards contest to 650 entries and raised the number of $2,500 student scholarships from four to five.

I've strengthened the Deadline Club board with diversity and top talent. Under my leadership, the club hosted affinity mixers with the New York City chapters of NABJ and NAHJ and the Newswomen's Club of New York.

Change that begins at the chapter level motivates members and strengthens the organization.

What is a specific change you would make within SPJ if you were elected?

The pandemic has brought SPJ members together through Zoom, giving us the opportunity to participate in chapter programs across the country and make new connections. I'd like to capitalize on this trend by creating an online calendar where chapters would post announcements and links for upcoming events. This would be collaboration and networking at its best.

I'd like to increase SPJ's outreach to chapters, and make it easier to form new chapters and recruit new members by streamlining the process. Increasing SPJ's connection with members who are not affiliated with a chapter, and with our large contingent of freelancers, would also be valuable initiatives.

A publicity campaign to raise awareness about SPJ resources would strengthen the brand and increase membership.

Why is SPJ important to you?

Through the years, this organization has been my guidepost in terms of journalism ethics and the fight for press freedom and freedom of information. Now I want to bring my personal commitment to SPJ to the next level. The roles of the national president and Vice President offer unparalleled opportunities to raise awareness about SPJ's mission and resources, and I look forward to rising to this challenge.
---
Andrew M. Seaman
@andrewmseaman • LinkedIn • Website

Current SPJ office(s) held: N/A

Previous SPJ experience: I first joined SPJ in 2008, when I was a rising junior at Wilkes University in Pennsylvania. I created a chapter at my university that year, serving as its first president. My work led me to SPJ's Ted Scripps Leadership Institute the following summer, when I decided to run for the national board as a student representative.

My tenure on the board was spent building up the community of student journalists and helping to create programs for colleges and universities. After leaving the board, I went to New York City for graduate school and spent a year on the board of the SPJ chapter at Columbia University's Graduate School of Journalism.

Committeework was my next calling at SPJ. In addition to serving on the Generation J committee, I helped overhaul the organization's Mark of Excellence Awards as part of the awards committee. The changes helped streamline the categories and increase competition among entries. Then, I was tapped in 2014 to help revise SPJ's Code of Ethics as a member of the ethics committee. My contributions were recognized after its adoption with my appointment to chair of the ethics committee — a position I held for four years.

My initial task as ethics committee chairperson was spreading the word about the revised edition of the Code and explaining the changes. I also spearheaded the effort to get the Code translated into several languages — from Spanish to Russian. I overhauled SPJ's annual Ethics Week by creating a week-long series of events and even getting advertising space on some of the most visible billboards in Times Square. Under my leadership, the ethics committee blog also became a destination for people looking for guidance and commentary on the latest journalism news and trends. In fact, the blog was often cited in print publications and cable stations. I also raised the profile of SPJ through media appearances in The Washington Post, The New York Times, HuffPost, Vanity Fair, The Los Angeles Times, BuzzFeed and Variety — to name a few.

Upon leaving the ethics committee, SPJ awarded me the Wells Memorial Key, which is its highest honor.

Special skills to serve in the office sought: I'm fortunate to spend a large portion of my time researching and examining management and career trends. The reason this will be an asset as SPJ's future president is that I know how to reach goals, manage people and help others grow in their careers. SPJ has a leadership pipeline problem and I want to use my skills to help develop a diverse and steady supply of future leaders.

Another asset that I bring to this position is institutional knowledge about SPJ and its foundation — dating back more than a decade. This institutional knowledge will help me quickly navigate the often-choppy waters of SPJ's bureaucracy while making sure proper checks and balances are maintained.

Thanks to my time spent within the leadership of SPJ, I also have a deep understanding of the real difference the organization can make in the world. I've been able to counsel journalists from around the world through difficult ethical situations. Additionally, I've had a front-row seat to see the great defence SPJ provides when the government overreaches its bounds to suppress the freedom of the press. I treasure those experiences and will use them as fuel to continue these important battles.

Finally, people who have worked with me in the past will likely cite my fairness as one of my top qualities. My goal is to collaborate and find common ground. I know that we all make the most progress and move in the right direction when we can hear each other out — even if we disagree. I promise to make fairness one of the watchwords of my presidency.

Bio

I am a lifelong journalist. In elementary school, I chose to create a newspaper instead of heading to recess. As a high school student, I pestered my teachers enough to create an advanced journalism course to take my senior year. My dogged pursuit of the truth and improving people's lives through information has not stopped. Currently, I am LinkedIn's senior news editor for job searches and careers. I launched a brand of newsletters that has spawned seven international editions. My weekly U.S. edition also currently boasts more than 650,000 subscribers. I also host one of the most popular LinkedIn Live programs. Before coming to LinkedIn in 2018, I served as digital editor for Reuters, helping to oversee the news agencies social media and homepage. I moved to that position after being the organization's senior medical journalist for many years. My time at Reuters began in 2011 after graduate school, when I worked in the Washington, D.C. bureau reporting on the Affordable Care Act and the White House. I hold an M.S. degree in journalism (with an investigative specialization) from Columbia University's Graduate School of Journalism and a B.A. in communication studies from Wilkes University. While I'm originally from Northeastern Pennsylvania, I currently reside in New York City with my partner and our two (adorable) cats.

Candidate Q&A

Why are you the best candidate for this position?

I have dedicated so much of my life to SPJ and its mission. My firm belief is that the health of a free press rises and falls with SPJ. I am determined to set this organization, its chapters and its members up for long-term success during my presidency. I know that I am the best person to accomplish that goal during these turbulent times, because I have a proven track record. Time and time again, I have stepped up to the proverbial plate when SPJ needed me and delivered results that exceeded expectations. When SPJ revised its Code of Ethics in 2014, the journalism ethics space was getting crowded with other players, such as ONA's new build-your-own ethics code and RTDNA's own revised edition. Yet, I worked with the ethics committee and SPJ headquarters to make sure our code remained the industry's standard. Even as a student, I was asked to help overhaul the Mark of Excellence awards program to increase competition and to help ease the burden on college and universities. The result was a leaner and more-competitive Mark of Excellence awards. I will continue to work with partners within and outside SPJ to deliver results.

What is an example of a change you have made or helped make within SPJ?

My work to revise SPJ's Code of Ethics is — without a doubt — one of the most important contributions I've made to the organization over the past decade. Our Code of Ethics is SPJ's foundational document and a beacon for the journalism profession. When transparency was under attack at the Las Vegas ReviewJournal several years ago, the brave journalists in the newsroom reached for the Code of Ethics to post on their cubicles. Countless other journalists have turned to it over the years to also seek guidance during challenging moments — big and small. Helping craft the most-recent version of the document is by far one of the biggest honors of my life and a legacy I'm proud to leave at SPJ.

What is a specific change you would make within SPJ if you were elected?

SPJ — on national, regional and local levels — offer journalists so much value. Unfortunately, a lot of the programs and offerings that provide that value are disjointed. People may be involved on a local level without much knowledge about what national has to offer, for example. I want to change that by creating a membership funnel that helps lead journalists deeper and deeper into the organization and its programs. People who come to their local chapters will be introduced to SPJ's communities and national programs. Similarly, people who come directly to national will be more directly introduced to local programs and national communities to maximize value. The more people engage with the programs, the more they will be pulled into the organization, which will ultimately help create a sustainable supply of dedicated journalists to lead SPJ for years to come.

Why is SPJ important to you?

SPJ is important to me on two levels — professionally and personally.

I have seen the difference SPJ makes within journalism — and ultimately the world. We step in when others can't or won't to fight against unethical journalism and abusive governments. We shine a light on the public's business to make sure it is conducted in the open. We hold people in power — and ourselves accountable. I shudder to think what our existence would look like without SPJ.

On a personal level, SPJ helped me find myself and my people. I am who I am today because of this organization. When I thought I was a bit of a weirdo in high school for examining how news and information reached the masses, SPJ showed me that there are many other people who care about those issues. When I worried that I wouldn't be accepted in journalism as a gay person, leaders within SPJ showed me I could be my authentic self and thrive in thise profession. SPJ has given me so much and I still feel like I have so much more to give back to it.
---
---
Secretary-Treasurer
Choose one

Jump to candidate:
– Ivette Davila-Richards
– Jonathan Make
– Danielle McLean
---
Ivette Davila-Richards
@IDRichards

Current SPJ office(s) held: SPJ Secretary-Treasurer

Previous SPJ experience:
– Deadline Club Board member (Nov. 2018-present)
– SPJ Diversity & Inclusion Vice-Chair (Sept 2019-to present)
– SPJ Secretary/Treasurer (Sept. 2020-present)
– SPJ Finance Committee Chair (Sept. 2020-present)
– SPJ Foundation Board (Sept. 2020-present)

Special skills to serve in the office sought: – Helped raise funds to support the Deadline Club and SPJ National.
– Brought awareness to the need for diversity in the newsroom and SPJ.
– Focused on making sure SPJ chapters have the resources they need.
– Recruited new members on the national and local levels.
– Mentor numerous students who are members.
– Former Vice President with the National Association of Hispanic Journalists.
– Experienced as a journalist for more than 20 years.
– Experience in both local and national news (NY1 News, CBS News & Fox News).

Bio

As a young girl growing up in Puerto Rico I grew up listening to the news with my 'vecinos and vecinas', my neighbors (both male & female) next door as they would dissect the news piece by piece. What stood out to me was how precise the conversation would be as they would ask each other what information they felt was left out, what could've been asked, or not, and what was done right. This exchange resonated with me because it highlighted how important storytelling, and getting it right, was to the public and community. As a result journalism was embedded in me, and the love for it grew where I then focused on working in broadcast news.

My passion for storytelling and diversity has been my mission.

Today more than ever newsrooms lack representation with people of color. It is time to make a difference. Join me in participating to create positive, equitable and diverse change for the SPJ membership.

Candidate Q&A

Why are you the best candidate for this position?

I have held the Secretary/Treasurer position for one year, and now I know what the job entails. I have the experience to do this one more year, and as a volunteer, I look forward to making sure members get up-to-date information via the minutes. Also, as the chair of the Finance Committee, I strongly feel that now after a year under my belt, I can better serve because I know what this position involves.

I am a Freelance National Assignment Editor at Fox News Channel where I research and approve stories of national interest for our affiliate stations. I'm also the Vice Chair of SPJ's Diversity & Inclusion Committee, and a past SPJ Dori Maynard Diversity Fellow. I also serve on the Executive Board of Directors for its local NYC Chapter, the Deadline Club.

What is an example of a change you have made or helped make within SPJ?

I want to continue with the current board momentum. Our focus should continue being the strength of the chapters and making sure they have all the resources they need to remain strong in their communities. We as a board should continue to bring in the new generation of journalists and embrace our veteran journalists who have been devoted and committed to SPJ.

What is a specific change you would make within SPJ if you were elected?

Our membership continues to welcome new people to our organization. I want to ensure that we continue making sure that all journalists realize SPJ is for journalists and student journalists who work on all platforms. There is this misconception that SPJ is only for newspaper people. We need to spread the word that we welcome those who care about journalism, whether in radio, television, digital, and print.

Why is SPJ important to you?

SPJ has become the organization for all voices, no matter your background, gender, or age. We each bring something to this organization. So let's amplify that difference that makes us stronger. I am very proud to serve SPJ.
---
Jonathan Make
@makejdm • Blog

Current SPJ office(s) held: Immediate past president, SPJ DC

Previous SPJ experience: For the last two years, I have helped to run an informal grassroots group of SPJ leaders from across the country. We have advocated for transparency in national SPJ board decision-making. Most recently, many of our members successfully backed holding a hybrid SPJ 21. In previous years, we helped local chapters receive past-owed dues from headquarters.

This group is meant to in part help oversee the board. So I hope it will hold me accountable should I become your secretary-treasurer. To avoid a conflict of interest, I would resign from the grassroots group.

I am immediate past president of SPJ DC, and was on its board for a half-dozen years.

Special skills to serve in the office sought:
– A collegial, collaborative, cooperative and constructive leader in my newsroom, in my community and on volunteer boards, including SPJ DC.

– I have covered Freedom of Information Act issues and government openness/public relations for most of my journalism career.

– I am not afraid to stand up for my principles (see above) and those of good journalism and best organizational and board governance practices. I don't mind going against the grain if the principle is an important one and if I have done my homework and received input first.

– I have been engaged with the local and national levels of SPJ for about a decade, attending board meetings and annual conferences and participating in many local events. I have taken the Scripps Howard leadership training. I believe that all of this gives me some institutional perspective on the history of SPJ and what makes it great and areas where it can further improve.

– I believe that my social media and communications skills can help SPJ get the word out about all that it does. I would hold regular ask me anything sessions for SPJ members via all forms of social media.

Bio

For approximately a half-dozen years until 2020, I was on the SPJ DC Chapter board. I have held various positions including president. I was also on the Sigma Delta Chi DC board.

I annually judge SPJ DC and national SPJ/SDX journalism awards, among others. I helped to organize many journalism events and moderated panel discussions of journalists. I occasionally speak with broadcast and other media in my SPJ and professional roles. I blog, tweet, take photographs and generate posts to many types of social media, as part of my SPJ and professional responsibilities. I have participated in the Scripps Howard leadership training and received the SPJ Dubin award in 2019.

I am a longtime journalist, working for the past 16 years at a newsletter publishing company in Washington, DC, where I am executive editor. Our publication Communications Daily is known for watchdog journalism, and has won many journalism awards including from SPJ. I am our newsroom expert on the Freedom of Information Act as well about journalism and ethics issues. Earlier in my career, I worked at Bloomberg and freelanced for daily metro newspapers. My graduate degree is in media and public affairs and my undergraduate degree is in international studies. I spend my spare time with my wife, who is also a journalist, and with our son. We also volunteer in our community.

Candidate Q&A

Why are you the best candidate for this position?

I initially undertook this candidacy in hopes that a current member of the national board would step forward to pursue the secretary-treasurer position. But that didn't happen by the July 1 deadline for declarations to be included in the initial roster of candidates. So I have made this a more traditional campaign.

I believe I would make a positive difference on the board and for you, an SPJ member. I have a long track record of working collegially and effectively with various volunteer boards, including with SPJ DC. I am keen to get others' input before making decisions. As a journalist, I am comfortable with dissent and with hearing different viewpoints and incorporating that into decision-making.

You can read the text from my campaign video on my Medium blog, where I go by the handle makejdm. [Link 1 | Link 2]

What is an example of a change you have made or helped make within SPJ?

At the local level, I have helped to attract younger members to our organization and have coordinated with local journalism students and their programs on events and on other matters. I have worked cooperatively with other journalism organizations on areas where their interests may overlap with those of SPJ.

On the national level, the grassroots group that I helped to start has succeeded in getting additional transparency from the organization. We helped to end the release of information after business hours and assisted in getting all SPJ members notice of board meetings further in advance. Most recently, members of our grassroots group along with many other SPJ leaders helped to get the national board to agree to hold a hybrid conference instead of one that was virtual-only.

What is a specific change you would make within SPJ if you were elected?

I hope that we as an organization can continue focusing on areas where we are strong and for which we are widely known. Those include ethics/awards, leadership training and training journalists, especially younger ones.

I believe that we should expand our strengths in areas of government transparency. Historically, we have successfully focused on protecting the Freedom of Information Act and with it the public's and journalists' access to government. I think we should consider also focusing on private sector transparency — subject to membership input.

I promise to do everything I can to encourage civility and constructive dialogue among members of the board and with all of our many different stakeholders, most crucially with members. I promise to advocate for what is in the best interest of the organization and profession as a whole, not based on what is in my own interests. I hope to continue the current SPJ focus on diversity and retaining and broadening the membership.

Why is SPJ important to you?

SPJ represents for me the best of what journalism strives for, and journalism is a touchstone of my life and has been my only career. SPJ's ethics, its journalism awards, its educational programming and its leadership opportunities help members to be better journalists. I would like to play any role that will help advance these things.

When I was asked if I was interested in running for secretary-treasurer, I said I would be happy to do so only if there were no other candidates. Journalists pitching in to make journalism a better profession and to help to educate the public about the news media is what makes SPJ a vital organization.
---
Danielle McLean
@DanielleBMcLean • LinkedIn

Current SPJ office(s) held: Chair of SPJ'S Ethics Committee

Previous SPJ experience:
– President of the New England Chapter (2013- 2016)
– Attendee at the 2014 Ted Scripps Leadership Institute
– Chair of SPJ's Freedom of Information Committee (2017- 2019)
– Recipient of 2017 Terry Harper Memorial Scholarship
– Winner of a 2018 SPJ National President's Award

Special skills to serve in the office sought: I am a dedicated leader who has served SPJ in different capacities. I have a unique ability to find solutions to complex challenges, present the facts and context in clear and understandable ways, and guide people through the decision-making process.

Bio

I am a senior editor at Smart Cities Dive, a national online news publication that covers the most impactful news and trends shaping smart cities.

I am the chairperson of the Society of Professional Journalists' Ethics Committee. I previously served as chairperson of SPJ's Freedom of Information Committee in which I helped oversee the launch of The Whistleblower Project, an ambitious Sunshine Week collaboration between numerous organizations that advocated for the importance of whistleblowers. And I am a proud trans woman who plays competitive women's hockey in the DC- Maryland region.

I am a former staff reporter at The Chronicle of Higher Education, where I covered federal and state higher ed policies and a former award-winning investigative reporter at the Bangor Daily News and later ThinkProgress. While freelancing, I was published in The Washington Post's The Lily and hosted a podcast called The Biden Transition Podcast.

Earlier in my career, I covered a number of Massachusetts city halls for several newspapers near my hometown, including the Somerville Journal, The Milford Daily News, and The Boston Globe.

Candidate Q&A

Why are you the best candidate for this position?

SPJ needs a strong leader. It needs someone who can work with a lot of people from different backgrounds who passionately defend their viewpoints, to figure out the best, most practical solution. I have a long history of listening to people from a diversity of different backgrounds at all levels of the Society, taking in their feedback and making informed decisions. People do not always agree with my decisions but they will know why I made them and know that it was made through thought and logic.

My strength as a veteran federal policy and investigative reporter has been my ability to dig into the government and regulations and figure out how and why they're not working the way they were intended.

Just because a program has been put in place to help chapters grow, just because there is an intention to take the Society to new heights does not mean that it will actually happen. Sometimes progress requires major structural changes. But most of the time, change requires just taking a step back and figuring out why things are not necessarily working the way they were intended and using the resources you have to resolve it. I have made a career doing that very work through journalism.

And when changes are needed, when SPJ wants to bring in new members who can grow as leaders, wants to grow a chapter or take on an ambitious new project, I'm a person who has a long history of doing that as well.

What is an example of a change you have made or helped make within SPJ?

When I first joined SPJ, I was immediately appointed president of the struggling New England chapter. The chapter was really only being held together by two or three active members and held very little public presence. But months after becoming president, we worked tirelessly to find speakers, sponsors, and venues for the Region 1 conference at Boston University. The event was by all accounts an astonishing success. Months later, we recruited new passionate members to the board and found creative new ways to make our mark, including holding a public records reform rally, in which dozens of journalists picketed in front of the Massachusetts State House in the blistering cold. Several of the members I brought in have helped turn the chapter into a tour de force and one of SPJ's biggest success stories of the past decade.

When I became SPJ's Freedom of Information Committee Chair in 2017, whistleblowers were under attack by politicians throughout the country and there were very few journalism organizations actively supporting them. I decided to devote the committee's resources that year into backing them. The FOI Committee formed a partnership with the Government Accountability Project and several other organizations to launch the Whistleblower Project: a comprehensive website that told the stories of whistleblowers, their importance to democracy and a free press, and the laws that are needed to support them. The project has received widespread praise from whistleblowers, lawyers and advocates and made an important case for government transparency.

What is a specific change you would make within SPJ if you were elected?

SPJ's Code of Ethics states journalists should, "Boldly tell the story of the diversity and magnitude of the human experience" and to "Seek sources whose voices we seldom hear." To do this, journalists from a diversity of races, nationalities, genders, disabilities, socioeconomic backgrounds, and experiences are needed to help newsrooms identify those underrepresented sources and tell their stories.

But SPJ's leadership needs to reflect our expectations of newsrooms. We need to not only recruit new members from diverse backgrounds, but we need to support them and allow them to grow into leadership roles within the Society. As a trans woman, I understand how challenging and intimidating it can be for members of marginalized communities to take on leadership roles within the Society. We need to let our members know that SPJ is an organization that will accept them.

When it comes to the Society's ability to grow, the most impactful changes we could make are not always drastic overhauls, rather using the resources we have to make our processes better. I would like the finance committee to take a more active role in helping SPJ staff identify new ways to generate new revenue. This could include further collaboration with the Foundation, it could come from our continuing efforts to grow our membership, or it could come up with creative revenue generators such as more sponsored virtual events.

I firmly believe that to grow our membership, we need to do a better job supporting our local chapters. We have an amazing staff in place working under very strong leadership. They are eager to get to work. Let's identify the things that need to improve to attract new members without reinventing the wheel. How can we get new members registering through our website to more easily identify their chapter and know to sign up for it? How can we better promote the discounts and resources SPJ has to offer and make it more accessible? How can SPJ help support under-resourced chapters that are trying to promote a panel, workshop, or networking event?

Sometimes we don't need to build a new road or bridge to improve our infrastructure, we just need to do minor maintenance to the ones we already have.

Why is SPJ important to you?

I owe the Society of Professional Journalists my career. It has taught me to become a better, more ethical journalist, it has allowed me to build a massive network of support, and given me an opportunity to give back to the industry I love. More than ever, our industry needs SPJ. The young reporters trying to make an impact in this challenging climate need SPJ. The truth and democracy needs SPJ. I want to continue giving back.
---
---
At-Large Director
(Two-year term)
Choose two

Jump to candidate:
– Dan Axelrod
– Emily Bloch
– Greg Hitchcock
– Daniela Ibarra
– Tom McKee
– Jason Parsley
– Alex Veeneman
---
Dan Axelrod
@dan_axelrod • LinkedIn

Current SPJ office(s) held: Member

Previous SPJ experience:
• Past Keystone Pro Chapter President
–Marketed and staged lectures, workshops and statewide contest. Organized
five lectures that attracted 500 people. Recruited 12 members in a year
Recognized for running one of the top small U.S. SPJ chapters. Helped run
successful statewide contest
• Past Chairman, Digital Media Committee.
–Authored strategic report "Will SPJ Remain Relevant in the Digital Age?"
–Wrote SPJ's congressional testimony for FCC and FTC committee hearings
–Assisted SPJ website redesign
–Oversaw creation of popular instructional digital media booklets
• SPJ Ted Scripps Leadership Institute Graduate, June 2009
• Past Quill columnist and freelancer
• First joined SPJ in 1999

Special skills to serve in the office sought:
• Teaching. Journalism professor (56 credits of teaching experience), including at the University of Florida
• Writing and reporting (14 years of experience as professional newspaper reporter, including nine full time)
• Public relations (two-plus years of experience)
• Life-long passion for studying journalism (Ph.D. in Mass Communications from the University of Florida, five published scholarly papers)
• Award-winning research/investigative skills. 15 prizes from state press associations for investigative and feature reporting, three national fellowships and grants for media studies and a scholarly legal writing prize.
• Knowledge of SPJ. Past experience with SPJ as chapter president and committee chair.
• Mentoring. Love helping college journalism students land internships, freelance gigs and jobs. Have spent entire career advising and coaching students, writing recommendation letters, overseeing capstone projects, reviewing portfolios, helping them create résumés and grad school admissions essays and mock interviewing them. Did all of that and more at the University of Florida, while also overseeing student media, and a million-dollar budget, as a board member for the Independent Florida Alligator, America's largest student-run paper.

Bio

Dan holds a University of Florida Ph.D. in mass communications, has 14 years of professional newspaper reporting experience (including nine full-time), and two-plus years of PR experience. Plus, he's taught 56 credits of college journalism and communications courses, including at the University of Florida, Marist and in the SUNY system. Dan has won 15 awards for investigative reporting and feature writing from press associations in New York, New England and Pennsylvania, three national fellowships and grants for media studies and a scholarly legal writing prize. As a reporter, some of Dan's top stories have uncovered a juvenile cancer cluster and a nursing home chain's unsafe conditions, which spurred state investigations; forced a Rye (NY) Town leader to resign for financial mismanagement; uncovered a tragic cosmetics factory fire's preventable cause; inspired a new high school's construction; and led to a bill to reform New York's industrial development agencies.

In 2011, Dan was a awarded a fellowship to earn his Ph.D. at Florida, where he taught media ethics, feature writing and multimedia reporting, while completing his dissertation on how the Rocky Mountain News' 2009 closure affected Denver. In his spare time, Dan teaches college journalism and communications classes in the SUNY system, he's a yoga instructor (RYT 200) and he studies journalism. He's currently working on a book (forthcoming University of Nebraska Press) based on his Denver case study about the societal ramifications of a newspaper's demise. For his research, Dan conducted a 223-person survey of ordinary Coloradans, plus in-depth interviews with state and local leaders, from community association presidents to Colorado's last five governors. He specializes in studying the attenuation of newspapers due to corporatization, consolidation, conglomeratization and financialization, media economics and the mass media's political economy, First Amendment theory, media history, platform convergence and media credibility. Dan is past president of SPJ's Keystone (Pa.) Pro Chapter, which SPJ honored as one of America's best small chapters and SPJ's former Digital Media Committee chairman.

For SPJ, he authored the 2010 strategic report "Will SPJ Can Remain Relevant in the Digital Age?" He's a past graduate of the SPJ Ted Scripps Leadership Institute, and he's written for Quill magazine, including a cover story and several columns. In February 2021, Dan became a senior account executive for Shea Communications, a Midtown Manhattan public relations firm, after four years serving as Gannett's Hudson Valley business reporter (reporting for the Journal News, the Times Herald-Record and the Poughkeepsie Journal). Among other accounts, he's in charge of press for a multi-billion-dollar JLL real estate project, and he assists with throwing the Nathan's Famous 2021 July Fourth Hot Dog Eating Contest at Coney Island. Dan also had an earlier PR stint, after being laid off from a Pennsylvania newspaper in 2009, following his first five years as a full-time reporter. Back then, he spent two years as a PR specialist for Blue Cross of Northeastern Pennsylvania for he which he organized events, drafted news releases, oversaw the internal communications system and ghostwrote for senior leaders.

Candidate Q&A

Why are you the best candidate for this position?

I passionately believe in making the world a better place through journalism, like SPJ. Few callings are as high. (The only thing I ever wanted to do more than be a reporter was teach people how to be reporters). I love reporting so much that I went back to it after I earned a Ph.D. in journalism. I was editor-in-chief of my high school and college papers, and it was at college where I fell in love with SPJ more than 20 years ago. Back then, I learned that SPJ was worth being in because its members believe in our collective power to better our field and ourselves as reporters, educators, journalism students, teachers and communications professionals. But we don't all have the time to be an SPJ leader. So, now that I have the time and the experience, I'm humbly hoping you'll give me the chance to help our organization and our field

What is an example of a change you have made or helped make within SPJ?

I'm extremely proud of my service to SPJ, whether it was advising the organization regarding an overhaul of its website, writing a strategic report on how the society can stay relevant in the digital age, recruiting a dozen members, authoring Congressional and Federal Trade Commission testimony on behalf of SPJ regarding the attenuation of journalism, or leading what was (back then) a vibrant digital media committee in 2009-010, while running a successful statewide chapter.

What is a specific change you would make within SPJ if you were elected?

I'm running for an at-large director board seat because I love SPJ, and the only thing I ever wanted to do more than be a reporter was help reporters. As an SPJ leader, I would consider how every decision directly adds value for members and helps the field. And I'd create another direct line to national leadership, with a goal of ensuring all members feel influential. I also would help ensure the organization stands against the commodification of news and putting profits before people and public service. SPJ should continue to promote recruitment, retention and training so younger journalists have a future and older journalists don't only feel as valuable as their next buyout offer.

Why is SPJ important to you?

SPJ is the oldest, largest professional journalism association in America for a reason — because SPJ is a unifying force for good in the field and a standard bearer for professional, ethical journalism. Journalists aren't natural joiners, but there's strength in numbers. And SPJ unites journalists, journalism educators and other communications professionals across races, colors, creeds, platforms, experience levels and geographies. Only journalism, Thomas Dewey wrote, "can furnish knowledge as a precondition of public judgments" through its "daily and unremitting assembly and interpretation of 'news,'" and its subsequent presentation in a widely accessible format with mass appeal. More simply put, journalism is no mere commodity. It's immeasurable extra-market worth lies in its ability to make us human (no other species can tell stories) and to help us flourish (by giving people the information needed to be free and self-governing and helping them make the daily decisions that better their lives). I'm proud to be a member of SPJ, an organization that seeks to protect and enhance journalism. And I'd be honored to help lead it.
---
Emily Bloch
@emdrums • Website

Current SPJ office(s) held: Membership Committee Chair; SPJ Florida President

Previous SPJ experience:
– Howard S. Dubin Outstanding Pro Member Award Winner (2020)
– Large Chapter of the Year Award Winner as SPJ Florida President (2020)
– Recipient of Terry Harper Memorial Scholarship (2019)
– Community Coordinator (2018)
– SPJ Florida Vice President of Membership (2018)
– Executive Director Search Committee Member (2018)

Special skills to serve in the office sought: In my years serving SPJ, I've helped develop and scale national projects (Fake News Game Show, Race & Gender Hotline, etc.), led an award winning state chapter and brought new — particularly younger — eyes to the organization.

I first joined the group as a student member, while attending college at Florida Atlantic University. I ran (and lost) a student representative seat, but went on to become the vice president of programming for my state chapter instead. In that role, I pushed a narrative for other students that SPJ taught me more than I ever learned in a classroom. It's my time participating in obituary writing contests and zombie interviewing events that I was able to apply to my day job (though I've yet to interview an actual zombie to-date).

My time with the organization has been spent building innovative, exciting programs that draw attention, membership and funding to the group.

As membership chair this past term, our group is working on new initiatives to drive student membership including a membership bundle with the Associated Collegiate Press and a pilot membership perk program, Paper Money, which will incentivize memberships with ad revenue assistance for student newspapers.

As the two-term president of SPJ Florida, I've helped our chapter not only win the national chapter of the year recognition, but have offered our successful statewide programs to national as free programming-in-a-box for fellow chapters.

Finally, while leading a Fake News initiative — where our chapter publicized an attempt to trademark the infamous term as a campaign for media literacy, I raised the organization's profile with an op-ed on the efforts for Teen Vogue, as well as international press coverage.

In response to these actions and more, SPJ awarded me with the Howard S. Dubin Outstanding Pro Member Award last year.

Bio

I'm a Florida-based multimedia journalist focusing on youth and internet culture and its intersections with diversity and politics.

I'm currently The Florida Times-Union's education reporter, covering Jacksonville schools, politics and local government. My coverage has included the monumental renaming of six local schools with Confederate ties.

Along with writing, I double as a social media engagement specialist for my newspaper, leading the organization's Instagram campaigns and a Subreddit page devoted to local news that I built from the ground up. I contribute regularly to publications including Teen Vogue, Cosmopolitan and USA TODAY. Recently, I wrote about the inequities women in the craft beer industry face for The Washington Post's The Lily.

I'm the current president of the Society of Professional Journalists Florida Pro Chapter. Through the organization, I lead a chapter known for organizing grant-funded programs for journalists across the state as well as media literacy training for non-journalists. Work under my leadership includes the now national Race & Gender Hotline. Currently, I'm also. cohort member of the 2020-21 UNC-Knight Foundation Table Stakes Newsroom Initiative.

I previously served as the associate editor for Flamingo Magazine, a statewide lifestyle magazine and regularly contribute to other luxury magazines. Before that, I worked as a community news reporter for the Sun Sentinel — a top 50 daily newspaper — covering Broward County. Along with the rest of the Sentinel staff, I contributed to the paper's Pulitzer Prize winning coverage of the Marjory Stoneman Douglas High School shooting.

Candidate Q&A

Why are you the best candidate for this position?

SPJ has an age-old pattern of ideas getting stalled out by bureaucracy and red tape — I'm undeterred by either of those things and have the track record to prove it.

I want to expand on the work I already do, scaling up local programs and initiatives nationally, just on a larger platform and with more resources. I think it's important that an at-large candidate understands both what it's like to be a chapter leader, as well as the nuance and intricacy that comes along with being a national board member.

What is an example of a change you have made or helped make within SPJ?

I have worked to scale up multiple Society of Professional Journalists Foundation-funded programs and initiatives from the chapter level to national including the Fake News Game Show and The Race and Gender Hotline. Additional programs following a similar pipeline that are coming soon include Paper Money and the newly launched Florida Student News Watch — a pipeline program for student journalists to work with education reporters at their local paper.

What is a specific change you would make within SPJ if you were elected?

We need to work to make becoming a member easier, not harder. SPJ (and its leadership) need to represent an inclusive space that will support marginalized groups unwaveringly. Additionally, student memberships need to clearly convey their value from a local and national standpoint. This is something the membership and student chapter guidelines task force have already been working to simplify. I think membership perk campaigns, like what we're working on for students right now for instance, will play a large role in this. But to thrive, they will need financial support.

Why is SPJ important to you?

SPJ taught me more than a classroom ever did. It's helped launch and foster my journalism career from the beginning.

The organization has supported my big ideas, lauded them and backed them up financially. Committee members have been there for me through high and low-points, including awards and layoffs. I know how impactful this group can be when the right people are in the driver's seat(s).

I only want to offer the same support for incoming members I've been offered. And I'd like to make it a little easier.
---
Greg Hitchcock
Website

Current SPJ office(s) held: N/A

Previous SPJ experience: N/A

Special skills to serve in the office sought: Multitalented in writing, video and the visual arts, my special skills include writing blogs, articles and grants, producing short documentaries, and illustrating by rendering drawings for publishers.

Bio

Greg Hitchcock is a veteran journalist and writer, one who also has several years of videography experience working on high level projects. He is a graduate of the State University of New York, University at Albany, who earned a Bachelor of Arts degree in English and a minor in Political Science.

Tragedy struck Greg at an early age; He was diagnosed with schizophrenia that impaired his thoughts while serving honorably in the U.S. Army. In April 1987, Greg was honorably discharged and had to find his way back to recovery.

Today, Greg is a leader in his field of journalism. He serves on the Zoning Board of Appeals in his home town of Gloversville, New York and volunteers on other board for mental health organizations giving his all and advocating for the dignity and rights of others with disabilities.

Candidate Q&A

Why are you the best candidate for this position?

My vision is to advocate for others by breaking down barriers through compassion, storytelling, and life long learning.

What is an example of a change you have made or helped make within SPJ?

I provided considerate feedback to the organization during their annual conferences.

What is a specific change you would make within SPJ if you were elected?

I would bring a sense of dignity and pride for journalists of all backgrounds and disabilities.

Why is SPJ important to you?

It is a membership organization that respects the public by providing them with trainable, dedicated, and ethical journalists that protects our freedoms.
---
Daniela Ibarra
@DanielaIbarraTV

Current SPJ office(s) held:
– SPJ Diversity & Inclusion Committee member
– SPJ21 Conference Planning Committee member
– 2021 SPJ Student Leadership Institute

Previous SPJ experience:
– SPJ Fort Worth Career Day participant
– Diversity & Inclusion Committee member
– 2021 National Conference Planning Committee Member

Special skills to serve in the office sought:
– 2017 - Student Representative, National Association of Hispanic Journalists. I served one year representing more than 400 student members with NAHJ. I helped the board craft projects and issues that would help students succeed in their chosen platform in journalism.
– 2020 - IRE (Investigative Reporters and Editors) Conference Fellow

Bio

I am currently a television reporter/MMJ at KTUL, the ABC affiliate in Tulsa, OK.

My introduction to the news business was unique. I grew up in a military family. My parents, immigrants from Ecuador, came to this country in the 1980s.

I graduated from high school in San Antonio and then headed to the University of North Texas (UNT) in Denton, Texas. I received my B.A. in Broadcast & Digital Journalism and my M.A. in Media & Industry Studies.

During my time at UNT, I was very involved in college journalism programs. By 2017 while studying for my M.A., I was the news director of UNT's campus television station. I oversaw a news team of more than 100 student reporters, producers, editors, photographers, and anchors. Our team won several Student Production awards from the Lone Star Emmy chapter.

While I was going to college, I was also the President of the campus chapter of the National Association of Hispanic Journalists (NAHJ), and by 2017 I was elected as the student representative for the national board.

I got my first job as a television reporter right after I got out of college at KTXS in West Texas and have enjoyed every part of it. When I'm not working, I volunteer, mentoring students, and play with my pups, Jaxson and Markle.

Candidate Q&A

Why are you the best candidate for this position?

I'm two years into my profession journalism career, which means I have a fresh perspective of what other journalists coming into the business need and want. I know the importance of having every voice represented in the newsroom and at the table. I believe diversity matters, whether it's race, age, gender, culture, or economic status.

What is an example of a change you have made or helped make within SPJ?

I hope I can continue opening doors for people of diverse backgrounds. We have been missing some newsrooms around the country, and I hope the new generation of journalists can make a difference with my help. This is why I joined the SPJ Diversity & Inclusion Committee. We have a Diversity Leadership Program that I am helping plan for the 2021 conference.

What is a specific change you would make within SPJ if you were elected?

We need more students around the country to get to know the Society of Professional Journalists. I'm a member of NAHJ and IRE, and I know that SPJ has many different programs and projects that could help students.

If elected as At-Large, I would work on helping bring students and first-year professionals into our fold and find a way to create a bridge between the new generation of members and SPJ's veteran members.

As a television reporter, I also want to show other TV and radio broadcasters that SPJ is not only for print journalists, but open to all platforms, including broadcasting. There is still a belief among the new generation that SPJ is for older, more established journalists. Let's change that attitude.

Why is SPJ important to you?

SPJ is known as a journalism organization that defends journalists who are challenged on the job. It's an organization that has proven that all people of all backgrounds belong. That's why I want to help lead an organization rich in history that continues to meet the needs of all journalists.
---
Tom McKee

Current SPJ office(s) held:
– Greater Cincinnati Professional Chapter Treasurer
– Region 4 Treasurer

Previous SPJ experience:
Region 4 Director & Board Member - (2018)
Resolutions Committee Chair - (2018)
Finance Committee Member - (2019)

Regional...
Region 4 Director - (2018)

Chapter...
Cincinnati Pro Chapter President - (2013 - 2018)
– Small Chapter of the year - (2014, 2016 & 2017)
Cincinnati Pro Chapter Vice-President - (2011 - 2013)
Greater Cincinnati Excellence In Journalism Contest Coordinator - (2011 - 2021)

Other...
Judging SPJ contests from SDX to different regions to different professional chapters

Greater Cincinnati Pro Chapter hosted Region 4/5 Conference in 2016 - helped plan and execute that plan - raised over $20,000 to help fund the conference

Special skills to serve in the office sought: I bring a wealth of experience to the SPJ Board. That's because of a decade of volunteer SPJ organizational work at the local, regional and national levels. That includes leading the Greater Cincinnati Pro Chapter, planning and organizing small and large events and working with local universities to provide programming for the next generation of journalists and running a local contest. I've also been as a Regional Director, helped coordinate regional conferences and served as a national board member and on several national committees. I know what members, chapters and communities need and can advocate on their behalf. The bottom line is I can hit the ground running and be a voice pushing for solid, fact-based decisions. I'm running to serve the society, not for personal gain.

Bio

The first story I wrote was published in our local newspaper in Maumee, Ohio, when I was in elementary school. It was a simple tale about raccoons getting into garbage cans and bird feeders, but I was hooked. In high school I was I sports editor and then editor of the school newspaper.

My introduction to Ohio University came during a summer high school journalism workshop in 1968 and I enrolled there the following year. My original goal was newspaper reporting, but I fell in love with radio and television and had opportunities every day to perfect my skills. That led to a 1973 summer internship with WCPO-TV in Cincinnati and a full-time reporter position when I graduated.

I covered the courthouse, city hall and a wide range of other assignments. I loved the chase. Moving into a producer's role, I had a hand in coverage of the 1977 Beverly Hills Supper Club fire, which claimed 165 lives; the 1979 "Who" concert tragedy where 11 young people lost their lives and the 1980 takeover of WCPO-TV by a gunman. I was one of nine people held hostage, but ultimately safely released. Ironically, my story for the news that night was a profile of the man who held us hostage.

After five years of helping grow a new video production company, I returned to WCPO in 1989 as assignment manager and moved into reporting again in 2001. Memorable assignments included covering New Orleans after Hurricane Katrina and the Virginia Tech massacre. In 2007 the station began Multi-Media Journalism, which I loved. Shooting, writing, editing and reporting my stories was a daily challenge and thrill.

It was during this time that I began volunteering with SPJ and quickly saw the value in promoting ethics, accuracy and integrity in the profession. I started as Vice-President of the Cincinnati Pro Chapter and became President two years later. Backed by a spectacular board, we were able to win Small Chapter of the Year three times in five years plus recognition three times for Outstanding Campus Relations. The chapter was the coordinator for the 2016 Region 4 Spring Conference in Cincinnati as well.

That work led to my selection as Region 4 Director in 2018 and a member of the national board. I chaired the Resolutions Committee and a year later served on the Finance Committee.

After 40-years with WCPO, I retired from day-to-day journalism in 2018 and became an adjunct professor at the University of Cincinnati in the Media Production department. I teach writing, shooting, editing and production to a wide range of students — all the while promoting SPJ and the values for which it stands. My work with the Cincinnati Pro Chapter continues as Excellence In Journalism Contest Coordinator and chapter treasurer. I also serve as Region 4 treasurer.

I have been married for 34 years, have three grown sons and seven grandchildren.

Candidate Q&A

Why are you the best candidate for this position?

I have a thorough knowledge of SPJ operations at every level of the organization. I am not an outsider with a personal agenda coming in and guessing how things run. I've been in the trenches for 10-years helping to get things done. I can connect immediately with everyone within SPJ — members, chapters, communities, regional coordinators, committee chairs and national staff. It's the members that should be the focus of every decision the board makes.

I also am fully versed in the journalism profession, having spent 40 years as a television news reporter, producer, assignment manager and multi-media journalist. I know how to make decisions quickly under tight deadlines to produce stories which have wide-ranging impact for the community.

I know how to work under extreme pressure, as evidenced by the 1980 takeover of WCPO-TV by a gunman who held me and eight others hostage for several hours. That experience prompted me to always keep in mind the physical and mental health challenges of the job. It's why the Greater Cincinnati Pro Chapter has presented multiple programs on the topic this past year and will continue that them in the future.

What is an example of a change you have made or helped make within SPJ?

As a member of the finance committee, I kept hearing about accounting issues related to the fiscal year of July 1st to June 30th. That put half the expenses for Excellence In Journalism in one fiscal year and the other half the next year. It was difficult to reconcile the books in that fashion and give SPJ leaders, chapter members and community members a clear picture of finances. I was among those who suggested and supported the idea of the society changing to a fiscal year that began on January 1st and ended on December 31st. That change was ultimately made.

What is a specific change you would make within SPJ if you were elected?

There are a number of issues on my to-do list.

1) The most important guiding principle for the board is to remember that chapters and chapter members plus communities and community members are the most important asset we possess. That's especially true when it comes to voting on possible bylaw changes for the society. Board members are volunteers helping to set the agenda, not micro-manage the professional staff in implementing it.

2) We must continue to foster development of college and university SPJ chapters by offering organizational support and programming that will engage and challenge the next generation of journalists. The profession is changing and SPJ needs to change with it. A goal should be set of re-energizing or creating 10 new chapters a yedar.

3) We must develop new strategies to boost the membership base — anything from finances to awards to grants.

4) We must develop new sources of revenue to promote programs, education, training and gatherings that boost the profession's profile.

5) We must continually defend the First Amendment and remind every U.S citizen about its importance to democracy.

6) We must continually call out organizations and individuals who deal in misinformation and whose goal is to try and demean journalists and journalism.

7) We must continue to advocate for the mental health and physical safety of reporters, photographers, editors, producers, managers and anyone else involved in the craft. It's getting more dangerous to do the job properly in the current climate.

8) We must make the world more aware of the Code of Ethics that drives the vast majority of journalists every day as they work in the professional world.

Why is SPJ important to you?

An informed society is a better society. Journalists see to it that stories which matter to the average person are reported fairly, accurately and with integrity according to the SPJ Code of Ethics. That's something I have believed very strongly from the time I wrote my first article for my hometown newspaper to the present. It concerns me that some people are trying to intentionally subvert the First Amendment for personal or political gain. That's why it's more important than ever to have an organization like SPJ to carry forth the torch of professionalism without bias. That's why the board must keep the main focus on members in chapters and communities. I may be old-fashioned, but I strongly believe in the credo of The E.W. Scripps Company, the parent of WCPO-TV. It's "Give Light and the People Will Find Their Way." It's not up to journalists to TELL people what to think. It's their job to give people fair, accurate and balanced information to let them MAKE UP THEIR OWN MINDS about issues or events.
---
Jason Parsley
@jeparsley

Current SPJ office(s) held: Contest Coordinator SPJ Florida

Previous SPJ experience:
– Past president of SPJ Florida (also served as treasurer and membership chair).
– Howard S. Dubin Outstanding Pro Member Award (2016)
– Past member of several national committees including Diversity, Awards, Bylaws
– Governance Task Force
– Terry Harper Memorial Scholarship (2017)

Special skills to serve in the office sought: As the editor of small publication with a small budget I'm constantly forced to do more with less.

Bio

I am an award winning journalist and Executive Editor of the South Florida Gay News, a weekly LGBT newspaper with a daily online edition. At SFGN I'm responsible for all of the editorial content of the newspaper. Over the years I've reported on a wide variety of topics affecting the LGBT community. I also am currently president of the South Florida Chapter of NLGJA — the association of LGBTQ journalists.

Candidate Q&A

Why are you the best candidate for this position?

I have a proven track of success within SPJ. Since 2010 our chapter has won Chapter of the Year six times. As the chapter's long time contest coordinator I was able to stop the bleeding. When I took over, the contest was in a downward spiral. I helped expand the competition, adding a Spanish Language Division in partnership with our local NAHJ chapter; increase our revenues and increase our entries. During my time as president I launched the "No Journalist Left Behind" initiative where I changed our bylaws, and rebranded the chapter to include the entire state adding most of our non-affiliated members to our chapter, giving them representation. I am also a strong proponent of working with other journalist organizations. SPJ Florida has strong partnerships today because of the relationships I cultivated years ago.

What is an example of a change you have made or helped make within SPJ?

At a national level I served on Governance Task Force in 2017 that shrunk the board from 23 members to the current nine members we have today. On a local level I expanded the the South Florida Chapter of SPJ to include the entire state in order to make sure all SPJ members in Florida had a chapter to call home.

What is a specific change you would make within SPJ if you were elected?

I believe chapters are the lifeblood of the organization and it's so important for our chapters to be strong and dynamic and vibrant. If elected my goal will be to connect with them to find ways to invigorate them. We need a committee dedicated to strengthening our chapters. We also must make it easier to launch new chapters — professional and student. I've seen the bureaucracy up close when we expanded our chapter to include the entire state.

I recently revived the local chapter of NLGJA to make sure local LGBT journalists had a seat at the table. We need to continuously look for ways to give all minorities a seat at the table.

Over the years I've watched many of our local programs go national. I want all of our chapters to be just as successful. One of the reasons SPJ Florida has done so well over the years is because we have a lot of cash, and that's because of our annual contest. Running a contest may not seem like the most exciting thing to do on a local level, but it's what allows our chapter to do all of the exciting things we do. On a national level we need to do a better job at helping our chapters run their local contests.

My motto is, how can I help you?

Why is SPJ important to you?

Journalism is my life. With all of the threats journalism is facing we need, now more than ever, a strong, growing, broad-based journalism organization. SPJ is that organization that should lead our industry into the future.
---
Alex Veeneman
@alex_veeneman

Current SPJ office(s) held: Member, Ethics and Awards Committees

Previous SPJ experience:
– Member, Awards Committee — August 2018-present
– Member, Ethics Committee — October 2016-present
– At-Large Officer, Freelance Community — June 2018-January 2019; January 2020-July 2020
– Community Coordinator — December 2014-March 2017
– Awards judge — 2015-present

Special skills to serve in the office sought: I am an organized, dedicated volunteer with SPJ who is prompt and courteous. I ensure that people have what they need, and if I don't know the answer, I will stop at nothing to ensure that you have an answer. This is YOUR SPJ, and I want SPJ to work with you and for you.

Bio

Alex Veeneman is a freelance journalist whose work has been published in Forbes, Medium, Kettle Magazine in the UK, and the digital publications of Twin Cities PBS (Rewire, Next Avenue and TPTOriginals.org). A member of SPJ since May 2014, his roles at SPJ include service as Community Coordinator, a member of committees and a convention moderator, most recently at EIJ19 in San Antonio, Texas.

Veeneman currently is a member of the national Awards and Ethics committees.

Candidate Q&A

Why are you the best candidate for this position?

At the forefront of my work is SPJ is connecting people and helping them enhance the profession — and helping SPJ work for them. People get involved in SPJ because they believe in the profession and the people. The work I have done in my seven years as an SPJ member is at the core of what I would bring to the table as At-Large Director. I want to be an advocate for every SPJ member — whether you freelance or work full time, are early in your career or trying to find your next steps.

This is YOUR SPJ, and I want SPJ to work with you and for you.

What is an example of a change you have made or helped make within SPJ?

I was instrumental in helping establish SPJ's network of communities, working to help serve members based on mutual interests. That network is imperative in helping connect members and help them in their work. I also served as Community Coordinator from December 2014 to March 2017, helping to oversee this work. I have also contributed to the work of SPJ's Ethics Committee through e-books and written articles, and SPJ's Awards Committee as a member helping with policy and recommendations of awards.

What is a specific change you would make within SPJ if you were elected?

This pandemic has taught us that this is no time to be complacent. Doing nothing changes nothing. We can only have an impact if we work together. I will be a voice for pushing for several things:

1. Create more national continuing education opportunities outside of conferences to help connect members outside of their chapters and geographical areas.

2. Start work to have a role for SPJ when it comes to helping journalists' mental health

3. Enhance SPJ's work to promote ethical journalism

4. Increased investment in opportunities for students and early career journalists

Why is SPJ important to you?

People get involved with SPJ because they care about the profession and the people who work in it. SPJ is more than just an organization that you are a member of. SPJ is an organization that can support and broaden your professional horizons, and can be your guide to a rewarding career in journalism. SPJ works to make sure that journalists remain active and supported, no matter what route they take, where they are geographically or what medium they focus on.

That work is necessary now more than ever, and I will do all that I can to make sure that continues — for if we are to ensure that the audience we serve is at their best, we need to be at ours, and if SPJ doesn't do that, who will?
---
---
Region 1 Coordinator
Currently unopposed
---
Chris R. Vaccaro
@ChrisVaccaro • Candidate Speech

Current SPJ office(s) held: Region 1 Coordinator, PCLI Board Member

Previous SPJ experience: Vaccaro has been the SPJ Region 1 Coordinator since January 2021, and served as the Assistant Region 1 Coordinator from 2015-2020. Additionally he was the SPJ Region 1 Mark of Excellence Chair from 2015-2020. He has been a board member for the Press Club of Long Island (PCLI) since 2010 and served as President of PCLI from 2014-2018. He has served as the awards chair for PCLI since 2010, helped found the Long Island Journalism Hall of Fame in 2014 and founded PCLI's historic studies committee in 2017 to put historic markers at locations of historical journalism significance across the island. He was also cochair of three Region 1 Conferences in the last seven years. As president of PCLI, the chapter was recognized as National Chapter of the Year in 2016, and runner-up in 2014 and 2015, as well as Circle of Excellence Award winners for freedom of information in 2014 and 2017 and college outreach in 2015. In 2014 he resurrected the student chapter of SPJ at Hofstra University and has served as advisor since.

Special skills to serve in the office sought: Any coordinator position is about leadership. To collaborate on all projects is the only path forward. I am an empathetic leader who understands how to serve in a volunteer leadership role. I believe in working with others, understanding the landscape of the region, the issues our local chapter leaders face and the points of advocacy that can strengthen the regional and national SPJ and chapter brands.

Bio

Chris R. Vaccaro is a media executive, professor and author from Long Island. The Emmy Award and Murrow Award winner is Vice President of Digital News at Altice USA in New York. He is also the Director of Graduate Journalism at Hofstra University where he has been an adjunct assistant journalism professor for 11 years. Prior to Altice, Vaccaro was the Editor-in-Chief of The Topps Company (yes, baseball cards!), where he helped build the team's digital division and launched mobile products. He also worked as an editor at the New York Daily News and Aol. His journalistic work has appeared in the New York Times, Rolling Stone, ESPN, Associated Press, The Athletic and more. He is also the author of six books.

On the non-profit front, aside from SPJ and the Press Club of Long Island, Vaccaro is also the Executive Director of the Suffolk Sports Hall of Fame on Long Island and on the board of the Italian American Baseball Foundation. Vaccaro studied journalism at Hofstra, attended Stony Brook University for his master's in public policy and has studied leadership in executive education programs at Harvard's Kennedy School, NYU's Stern School of Business, Columbia University's Business School and MIT's Sloan School of Management.

Candidate Q&A

Why are you the best candidate for this position?

In less than a year I've made an immediate impact in the role and I'm just getting started. I've stabilized trust, communication and leadership in Region 1, have coordinated with national, raised the promotion and marketing of our pro and student chapters and laid the groundwork and vision for more immediate and long term change in the Northeast. I'm looking to provide consistency in the region, while evolving SPJ on a grassroots level. The first six months have been successful, so let's expand on that for another year-plus.

What is an example of a change you have made or helped make within SPJ?

Within the first month in the position I had one-on-one conversations with all Region 1 pro chapter leaders and exchanged emails with campus advisors. From these conversations I developed a foundation of goals - I call the three legs to our R1 stool - GROWTH, ADVOCACY and COMMUNICATION.

Our goals with growth have been to develop new chapters, grow regional membership and expand our SPJ feeder system by launching new campus chapters. With advocacy, our goal is to open lines of communication with local officials and be a voice for the journalists and media organizations in our region. On communication, simply more of it between chapters, leaders and SPJ national.

In the last six months, I oversaw one of the more robust regional conferences in the country. It was multiple days with more than a dozen speakers and half a dozen panels. Guided the Region 1 Mark of Excellence Awards with a new awards chair. Promoted a student coordinator for the region. Set up bi-weekly email check-ins with all pro leaders and campus advisors, using the communication points to promote their events between each other and flag for SPJ national promotion and coverage. Relaunched the SPJ Region 1 blog, launched an SPJ mailchimp list for email communication with Region 1 members, worked with Stony Brook University to get its student chapter reinstated for fall 2021 and have already begun planning the 2022 SPJ Region 1 Conference on Long Island, as well as a possible 2022 SPJ Region 1 Summer Journalism Institute for high school students. I also developed a college chapter resource guide to inspire student leaders with ideas for new events and opportunities on their respective campuses.

Advocated the New York State Senate on Shield Laws, New York Governor Andrew Cuomo and New Jersey Governor Phil Murphy on vaccinations for journalists and the Connecticut Senate on Bill 760, which aims to prohibit use of footage from accidents.

What is a specific change you would make within SPJ if you were elected?

Life is about change and growth. We're evolving as we speak and so is Region 1. I hope to institute an SPJ Region 1 Summer Journalism Institute by Summer 2022 (thanks to a working committee we have plans to make this happen, but it's a major collaboration with some passionate journalists involved). I'm hoping that the pro chapter leaders from Region 1 will also help SPJ national make some changes to its website membership flow. We have a number of ongoing conversations about this with key stakeholders. We will launch more student chapters. The groundwork is set with a dozen colleges/universities in the Northeast and we're going to launch one at a time in the next year. Finally, more advocacy, more communication, more collaboration. I will spearhead it all for Region 1 and bring stakeholders together, no matter the issue or moment.

I'd also like to see better communication between chapter leaders across the country and not just the northeast. I've seen first hand how great it is to have email threads and zoom chats with our region, but I'd like more cross-region communication between regional coordinators and chapter leaders.

One area I'm exploring is launching regional versions of "SPJ Communities," which we won't do until the national versions are updated soon. I want to deputize some passionate regional leaders to help spearhead these.

I also look forward to traveling and meeting physically with all chapter leaders in the northeast this fall. Zoom has been great during the pandemic, but the in-person communication and sharing of ideas will be very beneficial for growth.

Why is SPJ important to you?

I believe in supporting organizations that are bigger than me. I find value in collaborating with other SPJ members around the country to share ideas and help advocate for journalists and journalism collectively. To do that locally was a joy, to do that regionally is a privilege and to do that as part of a national team of leaders has been empowering.
---
---
Region 2 Coordinator
Currently unopposed
---
Stephenie Overman
LinkedIn

Current SPJ office(s) held: Region 2 Coordinator

Previous SPJ experience: President of two chapters: Washington Pro and New Jersey Pro. Board member of SPJ national's Freelance Community. Graduate of the Ted Scripps Leadership Institute. Chair of the Project Watchdog Committee. In addition, I helped plan three SPJ national conventions, in Washington (co-chair), Los Angeles and New York. I'm a Howard S. Dubin Outstanding Pro Chapter Member Award winner.

Special skills to serve in the office sought: I have a talent for stealing good ideas from other SPJ chapters and regions and other journalism and membership organizations.

Bio

I'm a longtime freelance reporter who writes extensively about labor and employment issues. I've written for Fortune, Forbes, Salon, MarketWatch, Virginia Business magazine, Los Angeles Business Journal as well as dozens of other publications and websites. I'm the author of the book "Next Generation Wellness at Work."

Candidate Q&A

Why are you the best candidate for this position?

I am the best qualified candidate for the coming term because of my record in advising and working with the region's chapters and with individual members of the region; my past presidency of two chapters (Washington and New Jersey); and because of the breadth and depth of my experience in SPJ.

What is an example of a change you have made or helped make within SPJ?

I led Region 2's move to virtual programming during the pandemic. I am co-founder of the SPJ Washington D.C. freelance group. In almost a decade of existence, we have helped journalists get started in freelancing and supported experienced journalists who have been laid off. The group has proved to be a valuable recruiting tool for SPJ — two current members of the Washington chapter board came to SPJ leadership from our freelance group.

What is a specific change you would make within SPJ if you were elected?

I would build on the cross-chapter and region-wide virtual connections we've made during the pandemic.

Why is SPJ important to you?

To me SPJ is the rock, the foundation. I belong to other journalism organizations because I can network, or learn more about my beat, but I belong to SPJ — have belonged to SPJ for years—because it truly is devoted to, fights for, upholds, explains and defends the ideals of journalism.
---
---
Region 3 Coordinator
Choose one
Jump to candidate:
– Joanna Hernandez
– Michael Koretzky
---
Joanna Hernandez
@joanna0721

Current SPJ office(s) held: None at the moment

Previous SPJ experience:
– Member of SPJ national nominations committee
– Helped analyze SPJ elections process and made recommendations for improvement while on the Nominations Committee
– Deadline Club Board of Directors, Secretary
– Deadline Club Contest Judge

Special skills to serve in the office sought: I am a seasoned, nurturing leader who knows how to listen, figure out how to get the work done and motivate others to do their best. I am a former president of UNITY Journalists of Color/Journalists for Diversity and also a lifetime member of the National Association of Hispanic Journalists, among other journalism association memberships that include SPJ and ONA.

During my time serving as an NAHJ Board of Director, I was responsible for Region 2 (New York, New Jersey and New England). I am proud of being able to re-engage a dormant region, oversee the creation of new chapters within the region and grow our membership. In addition, one of my day jobs at the University of Florida is Director of Inclusion and Diversity — my entire lens is focused on Inclusion, Diversity, Equity and Access (IDEA) and I lead with the ethos of IDEA.

Also, I'm a certified Crucial Conversation facilitator and constantly work toward getting everyone talking and on the same page.

Bio

My journalism career started when I was a single mother, attending the Borough of Manhattan Community College in New York City and curious about the changes occurring in my community. I wanted to understand what was going on and share it with my neighbors, so I became a reporter at the local paper, the Clinton Community Press in the Hell's Kitchen neighborhood of Manhattan. It turned out that what we were witnessing was the very beginnings of gentrification. You know how that story turned out.

My clips and GPA helped me garner a full scholarship to earn a bachelor's in journalism at New York University. My first daily job was as a reporter for the Connecticut Post in Bridgeport, Connecticut. I've worked as a reporter and editor in a variety of daily publications, including Newsday in New York; The Star-Ledger and The Record in New Jersey; and the San Francisco Examiner. I was a Feature Production Director for the New York Times Regional Media Group. My last newsroom job before entering academia was as multiplatform editor for the Washington Post.

All throughout my journalism career, the lack of diversity at all levels in the workplace has been astounding. My membership in the National Association of Hispanic Journalists provided me comraderie as I began advocating for more diverse hiring.

I've been a journalism adjunct at several colleges and thought of pursuing a faculty position because there is nothing more satisfying than teaching the next generation of journalists our craft. But I found that most faculty positions warrant the need for a master's degree at a minimum. So, I went back to school and earned my master's degree (it's never to late!) in Public Administration at Baruch College. My journalism skills served me well when earning my master's — it allowed me to excel in communications; and I also took a deep dive into statistics, economics and budgeting. My focus was in government and nonprofits.

In addition to being an adjunct, I've had other roles in academia as well. I formerly was the Career Services Director at the CUNY Graduate School of Journalism (now called the Craig Newmark Graduate School of Journalism at CUNY) before becoming the Director of Diversity Initiatives, where I oversaw a $1.4 million budget to run an initiative that created a pipeline of diverse aspiring journalists for our industry.

Today I am a digital storytelling lecturer at the University of Florida's College of Journalism and Communications. I am also the director of Inclusion and Diversity. I belong to multiple committees and was just selected to participate in a one-year advanced leadership program at the UF Academy. I am also the founding adviser of UF's NAHJ student chapter and serve on the board of directors for JAWS (Journalism and Women Symposium) and The Independent Florida Alligator, a student-run digital and print publication.

Candidate Q&A

Why are you the best candidate for this position?

I have a lot of board experience. I bring a passion for fairness and an expertise in journalism as well as nonprofit organizations. I know how to manage budgets. And I aspire to bring out the best in people. I am excited by the endless possibilities our chapter has for increasing growth, fostering inclusion and ensuring SPJ remains a meaningful part of our members' lives.

What is an example of a change you have made or helped make within SPJ?

My focus is and always has been to ensure an inclusive and welcoming environment.

What is a specific change you would make within SPJ if you were elected?

I want to help diversify our membership and re-activate dormant Pro Chapters — in South Carolina, Puerto Rico and the U.S. Virgin Islands

Why is SPJ important to you?

Never has SPJ been as important than it is today. We are champions of the First Amendment. We are important to the future of journalism and inspiring the future generations of journalists. As I see it, SPJ is crucial to society as a whole in keeping the public well informed to make crucial decisions.
---
Michael Koretzky

Current SPJ office(s) held: Region 3 Coordinator

Previous SPJ experience: National board member (2008-2010, 2011-present). South Florida chapter president (2011) and board member (2005-2006). Have served multiples terms on the Awards and Membership committees.

Special skills to serve in the office sought: During my time as regional director/coordinator, the Georgia chapter was created a decade after the Atlanta chapter's demise. That chapter later won Small Chapter of the Year. I also oversaw the merging of three Florida chapters into one statewide chapter that has won large Chapter of the Year six times.

Bio

Currently editor of Debt.com. Previously I was a reporter for the Sun Sentinel, Florida Times-Union, and Athens Banner Herald Daily News before creating and selling two magazines, one to the Tribune Company. I later became managing editor of the world's largest jazz magazine and a designer and copy editor for the National Enquirer, Star, and Globe tabloids. I've also advised the student newspaper at Florida Atlantic University since 1999.

Candidate Q&A

Why are you the best candidate for this position?

I won Regional Director of the year in 2015 because I like the in-the-trenches work. This position isn't sexy, and it's nearly anonymous. But it's also important. Success is measured in not your own progress, but that of the region's chapters and members. I've had some success in both areas.

What is an example of a change you have made or helped make within SPJ?

Among the many changes I've helped either spark or support, the one I'm most proud of is among the smallest: I created a Race & Gender Hotline that SPJ later took in-house.

What is a specific change you would make within SPJ if you were elected?

I'd change nothing. SPJ has leaders that are planning change. As a regional coordinator, my job is unglamorous but important: Implement the changes already voted on, create compelling programming to drive membership, and support chapters so they don't struggle with logistics and drown in paperwork.

Why is SPJ important to you?

It's the only broad-based journalism organization in the country. It's the only one that cares so deeply about ethics. The only one was a Legal Defense Fund that awards thousands of dollars on a dime. The only one that funds so many local and national scholarships and programs.
---
---
Region 6 Coordinator
Currently unopposed


Joseph Radske
@JRadske

Current SPJ office(s) held: Region 6 Coordinator, Regional Coordinator Caucus Chair

Previous SPJ experience: I've been the Region 6 Coordinator since 2014. Time flies, even though right now flying is a challenge for all of us. I was also one of a group that brought the Madison Pro chapter back from a holding pattern to one of the strongest small chapters in the country. My heart will always be in Madison even though I'm physically in Fargo-Moorhead. Once upon a time when RC's were Regional Directors I was on the SPJ Board. I have also served on the Membership Committee.

Special skills to serve in the office sought: I wouldn't call my skills special. There are leaders in Region 6 who will fill this position one day. If I'm re-elected, I'm hoping that in the next two years we can find someone to step up and lead Region 6. What I do bring to the position is experience. Our region includes North Dakota, South Dakota, Minnesota and Wisconsin. We have few chapters. We have strong chapters. We have strong members who are not affiliated with a chapter. Over the next two years, we'll bring new chapters to the region. We'll energize chapters that are struggling.

Bio

I'm the News Director at KVRR-TV, Fargo-Moorhead. I've been leading the FOX affiliate for the past 5 years. I also teach at North Dakota State University (Advanced Broadcast Production) and Minnesota State University - Moorhead (Issues & Ethics). Prior to F-M I was a News Director in Madison, Omaha, Milwaukee. I've also worked in management in Indianapolis and Green Bay. My love of journalism began in my hometown of Milwaukee. Excuse the dated reference, but Woodward and Bernstein inspired me to challenge authority and tell stories. Journalism isn't a job, it's my life.

Candidate Q&A

Why are you the best candidate for this position?

My goal for the next two years is to be a better candidate and in turn a better RC. There are underserved chapters and members in Region 6. Specifically our campus chapters that are struggling after COVID-19 kept students off campus. There are several opportunities to start new Pro chapters that we will act on. A strong and effective RC is a resource for every SPJ member. I'll make sure everyone is included.

What is an example of a change you have made or helped make within SPJ?

SPJ is best served when we work as a team and not as an individual. One of my proudest moments was working with a group of veteran journalists in Madison, WI to bring the Madison Pro chapter back. It remains one of the strongest chapters.

What is a specific change you would make within SPJ if you were elected?

The change I would work towards over the next two years would be identifying leaders in Region 6 who will carry on the work of the Regional Coordinator. With my experience as an RC I look forward to building a larger network of chapters, both Pro and Campus. I look around the country and we have strong RC's in every region. I will offer my experience to help those newly elected as well as those in place.

Why is SPJ important to you?

SPJ is where journalists together make a difference every day. It's an honor to be a member. It's an honor to be a elected leader. I take the position of Region 6 Coordinator seriously. Can I do better, I will. I am here to teach, guide, lead and participate in taking SPJ and Region 6 into the future.
---
---
Region 7 Coordinator
Currently unopposed
---
Jason R. Edwards
@JLightbearer

Current SPJ office(s) held: None

Previous SPJ experience:
– 1 year as Associate Member – Entering 1st Year Professional Member

Special skills to serve in the office sought:
– 12 Years as a Community Repoter for LNC News in Wichita, Kansas
– Co-Owner of Wichita TV 7 LLC
– Graduate of BBN Radio BBNI

Bio

In 2009, i started as a Freelance Community Journalist, Filming and Reporting Local News , centered around reporting injustice throughout the Community of Wichita.

As of 2021, my team and i have grown to multiple online publications including LocalNewsChannel.org and Currently our Community News Station "Wichita TV 7 LLC"

Candidate Q&A

Why are you the best candidate for this position?

I believe with my experience in reporting community news and my leadership as a News Director/ Station Owner, i will be the best equipped to help our upcoming journalists and established base to be effective and successful.

What is an example of a change you have made or helped make within SPJ?

I believe to report more fairly, even when we may personally agree.

What is a specific change you would make within SPJ if you were elected?

The only change is to continue to help provide more tools for our Local Teams to succeed in reporting for their community.

Why is SPJ important to you?

Defending the First Amendment, and speaking up for those who cannot speak for themselves.
---
---
---
Region 10 Coordinator
Currently unopposed
---
Donald W. Meyers
@donaldwmeyers

Current SPJ office(s) held: Region 10 Coordinator

Previous SPJ experience: Region 10 coordinator 2019- to present, Region 10 director 2018-2019, Region 9 Director 2010-2014, Utah Headliners Board member 1996-2013, Utah Headliners chapter president 2002-2004, Utah Headliners chapter vice president, 2000-2002. Graduate of 2012 Scripps Institute. Member of the SPJ National FOI Committee.

Special skills to serve in the office sought: I bring experience of working in now two regions with a variety of chapters, ranging from small and starting out to large pros. I also know how to use technology to bridge the challenges of geography.

Bio

Donald W. Meyers is a reporter/multimedia journalist at the Yakima HeraldRepublic. Prior to that, he worked at The Salt Lake Tribune, (Provo, Utah) Daily Herald, and daily and weekly newspapers in New Jersey. He first joined SPJ while a student at Brigham Young University, and has been active in Utah and Washington state. He also was a founding member of the Utah Foundation for Open Government and was one of the creators of SPJ's National Black Hole Award.

Candidate Q&A

Why are you the best candidate for this position?

I bring a wide variety of experience to the position from both a professional and an SPJ perspective. I have been a national board member with SPJ, as well as a chapter leader. I've also worked on a variety of news outlets, from a major metro daily to small community weeklies. I've also experienced the challenges chapter leaders face, as well as people in our industry as we navigate these trying times.

What is an example of a change you have made or helped make within SPJ?

I worked with then-president Hagit Limor and David Cuillier to create the national SPJ Black Hole Award, which is a way to spotlight egregious violators of the principles of transparency in government. Its first use was with the Utah State Legislature's gutting of the state's open-records law, which gave SPJ a way to apply pressure nationally to the legislature to overturn it.

What is a specific change you would make within SPJ if you were elected?

I would like to do a more concerted push at developing campus chapters, which is where we will get the future leaders of both SPJ and our industry. I believe that healthy campus chapters can lead to healthy pro chapters, infusing new ideas and energy into the Society.

Why is SPJ important to you?

I've been a member of SPJ for more than 30 years. After my religion and my family, it has been one of the constants in my life. It stands for what is best about our profession and encourages us to do better. I truly believe that I have got more out of SPJ than the "bill and a Quill" as some say. I see serving in SPJ as a way to pay SPJ back for what it has given me through the years, as well as to help support my fellow journalists.
---
---
Region 11 Coordinator
Currently unopposed
---
Bryan Horwath

Current SPJ office(s) held: N/A

Previous SPJ experience: Bryan served as a board member for the Kansas Pro Chapter for three years, from 2016 until 2019. Following his move to Las Vegas in 2019 for a new job at the Las Vegas Sun newspaper, Bryan joined the Las Vegas SPJ chapter as a board member.

Special skills to serve in the office sought: Bryan is passionate about journalism and the SPJ cause.

Bio

Bryan grew up in Wisconsin before entering the field of journalism as a part-time sports reporter while in college. He later worked as a sports editor at a small newspaper in Minnesota before moving to news in 2010. Since that time, Bryan has covered many beats, including state and local politics, business, banking and real estate, in six different states. He's worked as the casinos and gaming reporter for the Las Vegas Sun since 2019 and has been active in SPJ since 2016.

Candidate Q&A

Why are you the best candidate for this position?

Simply put, I believe I'm the best candidate for the position because I'm willing to put in the time and effort to help further the SPJ cause in any way I can. America needs quality journalism now more than ever and the Society of Professional Journalists needs to continue to be the strong organization that it has been for so many years so it can continue to support the many fine journalist we have on the West Coast. I want to be a part of that effort.

What is an example of a change you have made or helped make within SPJ?

I believe I've helped to raise the profile of the Las Vegas SPJ chapter by helping to spread the word of the benefits of being an SPJ member. My fellow Las Vegas chapter board members, with their dedication to the organization and the profession, have only inspired me more these past few years to get the word out about SPJ.

What is a specific change you would make within SPJ if you were elected?

I'd like to see some type of scholarship program to pay for memberships for journalism students in college. I know the student fees don't seem like much — and in reality, they're not — but I remember what it was like to be broke in college. Even $20 or $30 can seem like a lot of money. I'd like to see some type of program where we ask supports of SPJ in respected communities to donate to this type of a scholarship program. It's important, with any cause, to attract young people. SPJ is no different.

Why is SPJ important to you?

Journalism is incredibly important for our society. I've seen how droves of people in our country in recent years have turned against our profession because of dangerous rhetoric and disturbing messages from far-right media organizations. I don't think it's political in nature to stand up against those types of baseless attacks against the thousands of remarkably smart and driven journalists working in the U.S. In the SPJ, we have an organization that supports these fine people. They need support these days. If I can help in any small way in that effort, I want to do that.
---
---
Region 12 Coordinator
Currently unopposed
---
Jennifer Ellis
@jennifersellis • Facebook • LinkedIn

Current SPJ office(s) held: Region 12 Coordinator; SPJ Membership Committee; Arkansas SPJ Board of Directors

Previous SPJ experience: I got my start with SPJ in 2011 at the campus chapter at the University of Arkansas at Little Rock, where I was immediately tapped as president. That same year, I attended SPJ's Ted Scripps Leadership Institute and went on to head the chapter until I graduated in 2013.

The Arkansas Pro Chapter asked me to join its board of directors in 2015 and help revive the group. The next year, I served as the chapter's vice president, followed by two consecutive terms as chapter president, during which time Arkansas SPJ won back-to-back titles as Outstanding Small Professional Chapter of the Year. I stepped aside, as planned, during a third term after being elected Regional Coordinator in 2019.

I was chair of the Planning Committee for the 2018 Region 12 Life and Death Journalism Conference in Little Rock, which led to the local SPJ being awarded the national Howard S. Dubin Outstanding Pro Member Award in the small-chapter division.

I served on the national SPJ Resolutions Committee in 2018 and 2019, and joined the Membership Committee in 2020. I regularly attend and speak out at SPJ national board meetings and observe or participate in various other task forces regarding issues within SPJ.

Special skills to serve in the office sought: Award-winning chapters take work. Programs, contests, conferences and other projects don't come together by themselves. I know, because I've done the work. Some of the programs I organized or helped plan over the years have had a reach that extended far beyond our local chapter members. As RC, I hope to facilitate replicating successful programs that promote SPJ's mission regionwide to ease the strain of planning and marketing programs on chapter leaders.

Bio

I am a proven leader dedicated to the highest standards of journalism and a champion for the Freedom of Information Act and First Amendment rights, as well as a lover of SPJ and all things journalism.

For nearly eight years, I've been with the Arkansas Democrat-Gazette, the state's largest newspaper. I first joined the company's promotions department as a special sections designer/writer. After a couple of years in that role, I was promoted to zoned editions editor. Four years later, after a lot of changes and restructuring in the department, in addition to overseeing the zoned editions, I absorbed management of special sections in my current role as creative services managing editor.

In addition to my work with SPJ, I serve on Arkansas' Freedom of Information Act Coalition. As much as I am a fierce proponent of investigative journalism, freedom of information and work that shines a light on the dark spots in our democracy, my daily work highlights bright spots featuring people and community — the stories that bring people together, help us understand one another and motivate us to do better.

Candidate Q&A

Why are you the best candidate for this position?

I love journalism and SPJ. I've spent countless hours in service to the society and its members. I've said this before, but I know there is always someone smarter, more qualified, more well-spoken and better out there, but I'm willing to step up, and I'm a hard worker — I get things done.

What is an example of a change you have made or helped make within SPJ?

A lot of my involvement has been on the chapter level. I led the reinvigoration of both the UALR campus chapter during my time there and the Arkansas Pro Chapter by establishing a precedent of hosting monthly events and networking opportunities.

I helped raise the bar at the annual Region 12 conference. When I served as conference chair of the 2018 Life and Death Journalism Conference in Little Rock, we saw higher attendance than there had been in years and a robust schedule of sessions. The conference in Nashville the next year followed suit with a fabulous turnout and lineup. Not everyone has the ability to attend the national convention, so offering top-notch educational experiences regionally is critical to the development of our area journalists.

In my first year as Regional Coordinator, I worked with the Louisiana Pro Chapter in 2020 to put together what would have been a home-run conference in Baton Rouge if it had not been canceled due to the pandemic, before Zoom became our lives, and I served on the Planning Committee for the 2021 Virtual Regional Conferences.

To help area members in need, I set aside regional funds to provide scholarships to attend the 2020 virtual national conference and the 2021 conference in New Orleans.

Although I was not officially a member of the Task Force on Student Chapter Formation this past year, I participated in nearly all of its meetings that led to relaxed minimum requirements for starting a campus chapter and worked to identify historically black colleges that could benefit from the establishment of SPJ chapters.

I believe this went hand in hand with my work on the Membership Committee, which supported a new partnership with collegiate journalism groups for membership bundles, in our aim to be producers of journalism's future.

What is a specific change you would make within SPJ if you were elected?

I want to continue to see more communication and collaboration between chapters and members on a regional level. Currently, we're doing this through email and an SPJ Region 12 Community Facebook group, where we share programming and offer regionwide contests for swag. A benefit to so many virtual programs is that we've been able to share a range of excellent content produced by chapters all over the region and country.

As in-person SPJ events begin to take place again, I hope to meet more of our members one on one and bring traveling programs to areas of the region that don't currently have chapters. I'm also working with several colleges to start new chapters and encourage more professional-student outreach.

Why is SPJ important to you?

SPJ links us with a network of people who understand and appreciate the difficulties we face as journalists. But more than that, SPJ offers a plethora of professional-development opportunities, helps guide the practice of journalism with the highest standards through the Code of Ethics, encourages diversity, supports journalists with the Legal Defense Fund, FOI and Ethics hotlines, and protects sunshine laws and freedom of the press with advocacy.
---
---
Questions?

Send us an email.